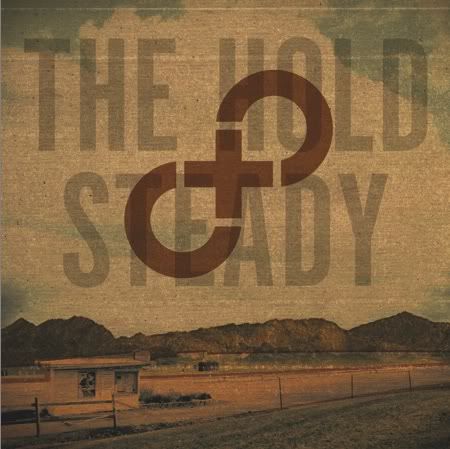 I am not an objective critic—I love
the Hold Steady
like a filthy dive's bartender loves hard drugs. But like the best dives after they start serving PBR ironically, sweep up the wood chips, and clean out the beer lines, the Hold Steady's new album seems a little too tidy and a little too well-lit. Which makes it all the more surprising that Stay Positive is getting
universal acclaim
, according to metacritic.
I would wonder if critics weren't overcompensating for underselling previous HS albums, but holy shit, they've
loved 'em all
. So I have no explanation for the current swoon (nearly perfect album, says Entertainment Weekly (zuh? What does Us Weekly have to say?)). I tend to defend critic's darlings—what appeals to critics often appeals to me, too—but I don't get this.
First, the album art. The HS went from a straightforward Polaroid collage cover with
Almost Killed Me
(an album that made you believe that, but for the grace of God, the HS could
be
the characters singer Craig Finn described), to a simple photo on white with
Separation Sunday
(still their best, IMO), to an album-appropriate party shot on
Boys and Girls in America
. The new album looks like an
Old 97s
reject. It's like they followed the Killers to
Sam's Town
and ran their artsy digital SLR photos through the sepia filter. It looks professional, sure, but if their idols are
Springsteen
and the
'Mats
, they have to do better. Or worse! Just not so middling.
So blame the cover on
the label
—it's no stranger to mediocrity; but the same tag applies to the music. All the elements of a HS album are there: insistent riffs, piano bar keys, Finn's fevered stream of consciousness. But the new polish on the production (especially Finn's voice, which is clearer and more on-key than on previous albums) and the smoothed edges make me wonder if their ambition has gotten the best of them. They have the opposite problem of another one of my favorite bands—whereas I never understand why
Ted Leo and the Pharmacists
can't record an album that sounds like they spent more than a few late-night hours recording and one early-morning hour engineering, I don't understand why the HS had to make Stay Positive so damn
clean
.
Also, the lyrical tips of the cap to other bands and old HS songs and characters were charming on Separation Sunday and Boys and Girls, but come off as self-indulgent and name-droppy here. Alright, we get it; you liked youth crew bands at some point.
My whining may all be a matter of perspective: maybe catching "in" references on the other albums made me feel cool, and now I think I'm above being flattered by that kind of thing; maybe I wanted more of the same HS and the HS felt differently; maybe I do drink PBR ironically. But the whole thing doesn't feel so much like a
new direction
so much as the Hold Steady's first failure.