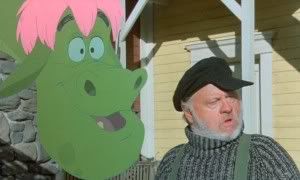 As a kid, I was a fan of
Pete's Dragon
--both the movie and the
Disney Read-along Book
--which took place in the fictional town of Passamaquoddy, Maine. I think I identified less with Pete, the lovable orphan who shares my name, than with Lampie, a drunken fisherman played with subtlety and nuance by consummate character actor Mickey Rooney. He
pioneered
acting in live action/animated film. He's the green one, on the left, I think.
This has nothing to do with anything--except Maine and Quoddy. I admit, I own more footwear than the average man. I own a pair of 1983 Nike turf shoes that may or may not have been made for the Ohio State football team. I can't explain that. I have never worn them. However, I wear boat shoes a lot, and have been wearing a pair of J. Crew boat shoes to death for a couple of years. They've pretty much had it, and were worthless in the winter anyway--so I was seeking out a pair of boat shoe-type shoes for winter when I got turned on to
Quoddy Trail Moccasin Company
. Quoddy has been making moccasin-style shoes in Maine for a long time, and back in the day they made shoes for LL Bean. They've gotten a lot of press lately for making high-quality shoes in America, and their signature moccasin models fit nicely with the trend of pretty much
everyone
wearing boat shoes--from traditional yacht rockers to
quasi-hipsters
. Quoddy has also been making shoes for lines like Maine-based, maritime-inspired
Rogues Gallery
and stores like LA's taste-setting
South Willard
.
Quoddy's customer service is personal and courteous, but not fast. It's a small company that makes a good proportion of shoes according to order, so turnaround time can be agonizing--it should be mentioned that I have no patience. But Kirsten Shorey (the Shorey family has run Quoddy for a century) helped me out and got me a pair of ring boots in about a month. I ordered a pair in natural chromepak leather with a crepe sole, and these shoes are tough. The leather is a 1/4 inch thick, and the crepe sole is handsewn to the upper. The ring boot style takes a little getting used to, but I think I'll be wearing these a lot this fall and winter, despite the fact that I'm hitting the pavement in DC and not stalking in the woods of Maine. /
peterman
Apparently, Quoddy recently expanded to keep up with demand, and this expansion has come with a price expansion as well. But they still represent a good value at a time when some brands are charging hundreds of dollars for
re-badged Sperrys
.