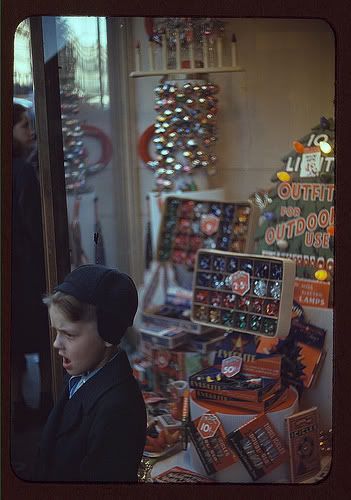 I could spend now through Christmas listing books, clothing, and other desiderata that people can buy for me, but my apartment is already disgracefully crammed with crap I once considered essential acquiring, so I'll skip that and list a few things I'd like to give to other people this year (but won't, necessarily).
Adagio UtiliTEA Kettle
—$49—An electric kettle is exactly the kind of thing no one who has a stove or microwave needs. But this one is a nice extravagance for tea snobs (and those who would like to become tea snobs) because it heats water perfectly for green tea and white tea, so as not to damage the delicate flavors with bruisingly hot water from a pedestrian stovetop kettle.
Good for:
Girlfriends, moms, Anglophiles, people who know the difference between green and white tea
Animal Crossing: City Folk
—Wii game, $49.99—A very Japanese game, it's a life simulator, and includes such fun simulated activities as expressing emotion, paying a mortgage, and collecting insects. I swear it's more fun than it sounds.
Good for:
Nerdy kids, parents who want to instill financial responsibility in their children beyond "you'll get nothing and like it."
"Flying" Alarm Clock
—$14.99—Far be it from me to buy a present that not only insults the receiver ("You seem like you probably have a hard time getting out of bed.") but also will annoy them whenever they use it--but this seems like a pretty useful gift. The propellered top of the clock is the alarm and flies off the base as the alarm sounds. The noise will not stop until the flying piece is fetched and returned to the clock.
Good for:
Brothers who have checkered employment histories and difficulty getting to work on time.
A subscription to Monocle
—75GBP ($115)—This magazine is ridiculous-ly awesome. Takes itself very seriously and seems to back it up. It's like the
Econofinanwallpapesquire Times
. In the tradition of high prices making things oddly more desirable, a subscription to Monocle (10 issues) costs 10 percent more than the cover price. Take that, Sports Illustrated!
Good for:
Hipsters, the last of the famous international playboys.
Henry Owlington
—$45—Stuffed Owl from DC crafter tigerflight. These crafty things are good for two recipients: people you know really well for whom an indie stuffed animal would be perfect, and people for whom you have no idea what to get but whom you like to offput, just a little.
Good for:
Those people.
Marimekko Tote Bag
—$75—Holds a lot of crap, has a pretty flower on the side.
Good for:
Sisters, moms who remember last time Marimekko was hip.
Buzz Rickson Chambray Work Shirt
—$129—My dad wears chambray shirts, which sounds kind of cool until you realize he dry cleans them (heavy startch), and buys them at Haggar. He'd be better off in Buzz Rickson's reconstruction of a 1944 U.S. Navy spec work shirt. It will appeal to the history buff in him.
Good for:
Dads, brothers, sons with more money than sense.
Roomba
—$499—Cleans your house and good for
the occasional film reenactment
.
Good for: Cats
Photo from
Library of Congress flickr.