Well, duh.
The Wrens
are like a rad sweater you forget about for a few years, and then notice again when you're putting away your shorts and tshirts and digging out your corduroys again. It's a little scratchy and has a moth hole in the armpit, but it smells like a good time you had in 2003. I wish they'd put out a new sweater. I think I'm torturing the metaphor a little.
Wrens arguable head dude Charles Bissel has been
hanging out with Okkervil River
(and Will Sheff,
in particular
), and they've
contributed to an R.E.M. covers album
, but otherwise they've been quiet for a long time. Like, almost since I graduated from college. They contributed a track for an obscure Australian comp coming out soon (
stereogum covered this awhile back
, thanks KC for the heads up). "In Turkish Waters" is a typical Wrens track, in that it doesn't club you over the head with its awesomeness, but quietly becomes one of those songs you look for on your ipod.
The Wrens - In Turkish Waters
Also, if you ever lend that sweater to a Wren, get it dry cleaned.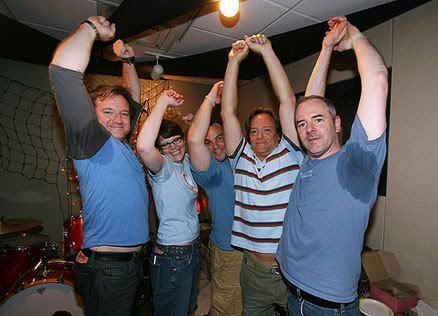 Photo from
The KEXP Blog
(live Wrens tunes there).