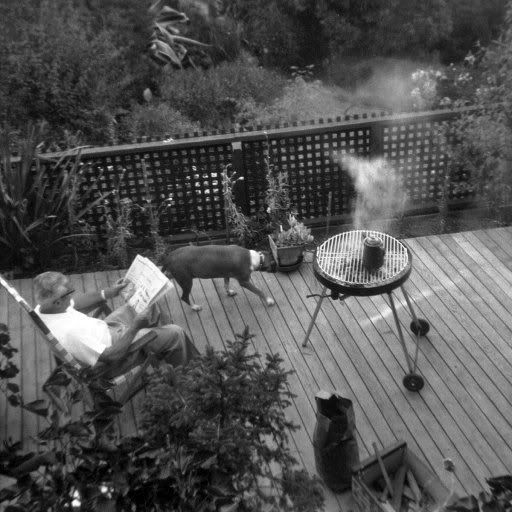 Recently had a couple of rough days after a couple of long weeks. Not a "reconsider the direction of my life" kind of time, just a "goddamn when can I just relax for a few minutes" kind of time. A good occasion to sit down, take stock, and think about the not-to-distant future.
1.
Summer food.
I've been apartment-bound and grill-less for far too long. At some point I will be found on the patio, drinking a Tecate michelada, and
grilling flank steak
. Or grilling clams and corn. Or grilling some
dogs
.
2.
Fort Reno.
The summer concert series starts soon--I missed their benefit at the Black Cat last weekend (woops). The schedule isn't out yet, but I can't wait to lay on some cool grass and watch some DC talent play, silhouetted against the
Fort Reno
towers. Don't forget to donate.
3.
Summer reading.
I have a few beach trips planned, and they always provide good opportunities for falling asleep while reading. To that end, I plan on trying out Christopher Buckley's
Losing Mum and Pup
, Murakami's
running book
, and something cribbed from
KC's list
. Maybe something light and straightforward, like
Infinite Jest
. That would look tented on my chest in a hammock, open to page 6.
4.
Training for the Army 10-miler.
After running the Baltimore half-marathon, I've decided it's a good thing to have something like this scheduled for October to make me manage my time/beer intake during the summer. Not good enough to twitter training updates, of course. I'm registered for the race and I'm putting my personal goal right here: 90 minutes. I've been working out,
drinking milk
, maybe wearing a half shirt around.
5.
Summer playlists.
I've listened to enough Smiths,
twee pop
, and New Order for awhile, it's time for Springsteen,
Wilco
, and
Toots
.
6.
Go-to-hell clothes.
I've got the anchor shorts, white bucks, and madras ties (
sweet
) ready to go. Just waiting for the right occasion, like, say, a summer wedding on a yacht in 1982.
7.
Release of F/W lines.
As much as I love
tshirt weather
, I prefer defending myself from the elements with layers of tweed and down.
Woolrich Woolen Mills fall collection
, I'm looking at you.
8.
Tennis (playing).
9.
Baseball (watching distractedly).
10.
Laziness.
As exemplified by these last three items.
Photo from the great
Shorpy
.
P.S. I joined
twitter
, I think right after Larry King, which seems about right.