The Garbstore
(the clothing line, not the shop) could reasonably be criticized for being latecomers to this fall's overwhelming heritage outdoors trend—in past seasons they've focused more on militaria and motorcycle styles—but designer/founder Ian Paley has been out front of enough clothing movements that it's a dangerous criticism to make. The guy worked with Paul Smith on the R. Newbold line (which was resurrecting vintage inspirations a decade ago--well before I cared for damn sure), founded clever British streetwear line One True Saxon, and now runs the Garbstore's clothing line and tastemaking shop in Portobello, London.
It's always a shame when I can only see interesting stuff like Garbstore online or in magazines, so I was pleased to check out some of their stuff at
For the Greater Good in DC
. Keeping with Paley's accessible streetwear sensibility, the stuff is vintage inspired but not as minimalist as a line like Engineered Garments or as bogged down by authenticity as other labels. The standout piece was a green parka (alright, I like parkas. I don't even own one!) done in a tightly woven canvas from Japan (linen cotton blend, apparently) in a really catching shade of green. I'm tapped out on cash and closet space right now, but I wouldn't mind owning this.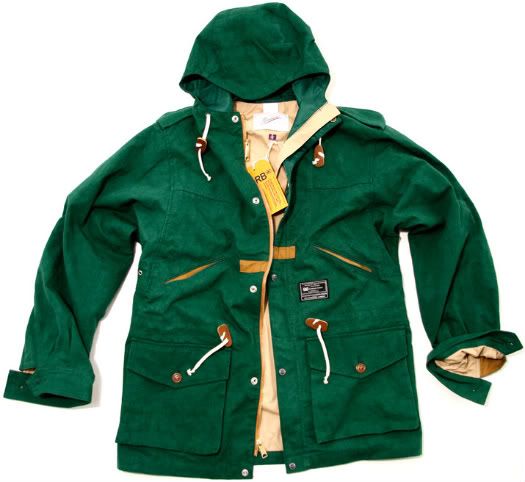 Don't know whether to blame VAT or shipping, but this jacket is $340 from For the Greater Good, but nearly $500 from Garbstore.