Headed up, down the shore this weekend. Hope to get my fill of
kitsch
and the
beach
. If I had my druthers, I'd be dressed like the dude below left. He's just aware of the damaging effects of UV rays on the generally Irish.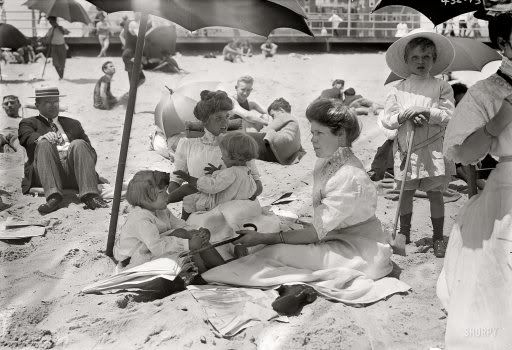 Photo (from
Shorpy
) of beachgoers in Asbury Park about 60 years pre-Bruuuuuce. Speaking of whom, I've been jonesing for Bruce-biting music for awhile. The newest Hold Steady
didn't do it for me
(neither did the
newest Bruce album
), and the Secret Service-endorsed
Gaslight Anthem
seemed to be a contender, but their album has a shallowness that belies their Bruceworthiness. For this weekend I'll go with the original of probably the most famous Bruce cover.
Tom Waits -- Jersey Girl