In London nearly a decade ago, I opened the door of the townhouse where we had class to a surprise--cold UK rain. Being an entirely unprepared American in jeans and a tshirt, I asked our hopelessly British administrator for help--an umbrella, a jacket, anything. Lizzy pulled a
sprayway jacket
out of the closet and offered it with a sneer--"Ugh, if you can stand wearing it, I have this--yech--anorak." Pipecleaner thin, with a shock of unnaturally red hair and matching red lipstick, Lizzy wore wool dresses and significant leather boots, all in shades of gray and black, carried an umbrella at all times, and would sooner wear kitten fur than Gore Tex. My classmates, on the other hand, were uniformly clad in North Face shells in varsity red or Gorton's yellow. I gladly obliged and wore Lizzy's spare anorak for weeks whenever it rained. I suspect she was glad to see it get some use, but I think she also lost whatever respect she had for me.
Although tech gear has never faded from the U.S. apparel landscape (see the perspicacious
SWPL
) only recently has interest turned from having the latest and greatest to appreciating the back catalogue of labels like Sierra Designs and
Holubar
, an old North Face competitor. That ratty sprayway jacket would have fit in well. As all these things seem to go, the resurgence of interest hit Japan first, and Japan is now the exclusive release location for new products from Sierra Designs, Kelty, and others that are essentially reissues of their old gear. The argument seems to be that, hey, it worked great before we knew any better, and the design was solid. The packs, parkas, and vests look technical without being stuffy, overdesigned, or self-conscious. A few pics of parka picks below--I would own some of this stuff if I had the confidence to buy from Japan (sizing is an issue for me as a US 42R). The originals pop up on American ebay and in thrift stores regularly, although the ebay market has positively exploded with the interest from Japan and coverage from blogs like
acontinuouslean
. New, U.S.-made outdoor gear is experiencing a hip retail rebirth, with
Crescent Down Works
parkas carried in South Willard and Steven Alan carrying a flannel lined down vest.
Engineered Garments has had carried a parka cut in different fabrics for years--this one is a spring version in cotton.

Sierra Designs' classic 60/40 mountain parka (Japan only)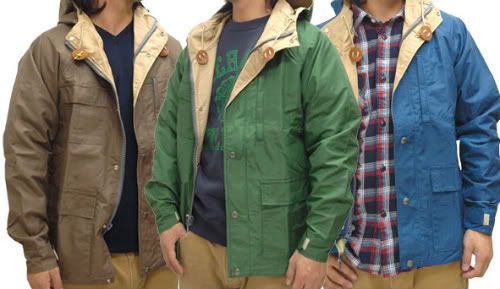 A Class 5 reversible pullover anorak... I bought one of these in blue off ebay earlier this year and then sold it. Regrets. It has a kangaroo pocket that you can loop a pack strap through.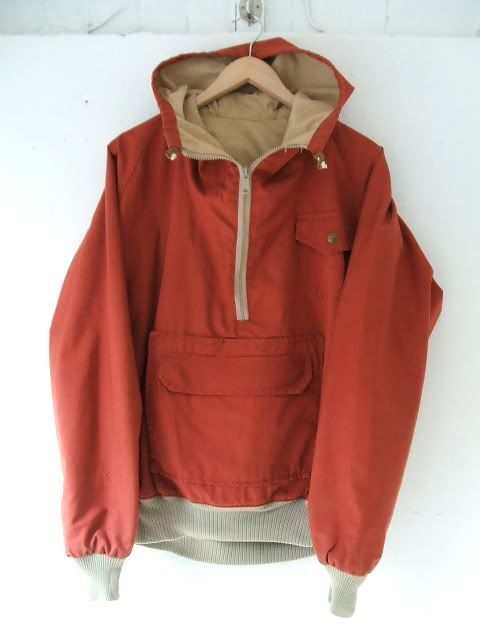 A Fjallraven Greenland jacket in the classic outdoor nerd blue.