American chamois shirts must confuse the hell out of Europeans—a French dude (I'm thinking mustachioed and chapeau'd,
De Gaulle
style) shaking his head in disbelief—"Zut alors! This is not
shamwa
!" True, a chamois is a European mountain goat and chamois leather is light and, oddly enough, gentle and water absorbent—hence its use to dry car finishes.
Chamois, to most Americans, means a thick, strong, flannel-esque cotton weave. When LL Bean ruled the yuppie land with a hunter-green fist, one of their most popular products was the chamois shirt. My dad had a handful of solid cotton flannel shirts in the standard greens and a tan/gold color he just called "shammy"—that's the closest in color to natural chamois leather. I started looking for a new equivalent last spring, as
today's Bean shirts
are cut very large and are made abroad. A chamois shirt should not fit slim, but jeez the new shirts are big. Cabela's and other usual outdoor suspects also sell oversize versions as hunting shirts—like other "heritage" natural fabrics, cotton chamois is extraordinarily quiet in the field. Unfortunately my hiking boots squeak like seals. Fortunately I stalk mostly microbrews and indie bands.
I settled on a Cruzer flannel from
Post Overalls
. Post Overalls (or Post O'alls) has been making new clothes with old DNA since 1993. Not surprisingly, the designer is Japanese—Takeshi Ohfuchi. Takeshi has been collecting vintage garments since the 1980s. It's tempting to draw some parallels between Post O'alls and Engineered Garments—but that's for another day.
Check out Takeshi's blog
. The Post O'alls Cruzer flannel shirt in red (hell yes red) cotton.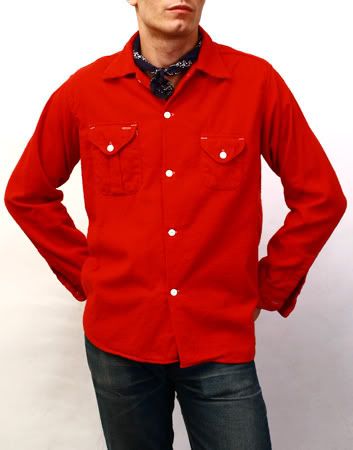 A chamois spotted at the Rose Bowl flea market by
Mister Mort
. Not my ideal ensemble, but...