Spent Sunday doing two things most people would probably prefer to avoid, generally--running 8 kilometers (in DC's St. Patrick's Day 8k) and then going to the mall. All in the name of research. The
Tyson's Corner, Virginia L.L. Bean store
is the first to carry Bean's new
Signature line
, which I had been keeping an eye on (thanks to
Off the Cuff
for the tip). The line, headed by
Rogues Gallery
creative director
Alex Carleton
, tries to take advantage of Bean's current, uh, currency and offer something to the nonretired set. I took the opportunity to test out my new phone photo app,
Vignette
, and I would say that the results of both the line and the app are mixed. More pics after the jump...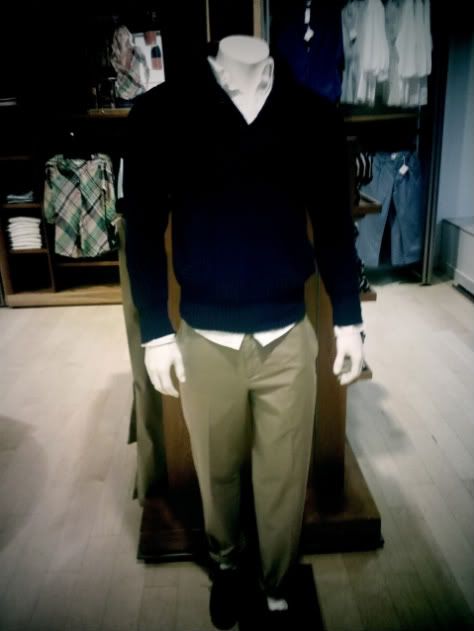 The stuff is styled very well on the website, and transposed to a friendly, well-lit, clean northern Virginia mall it loses a little edge. There are striped oxfords, canvas pants, cotton suit separates, washed canvas bags, and a
range of shoes
. The shoes are the clear standouts. Emulating, to a certain extent, Quoddy's offerings of boat moccasins in nontraditional finishes, they are priced competitively with Sperry but look great (one big advantage is that they have no overt branding--only the bags really have a conspicuous "L.L. Bean"). The boat shoes with a leather sole would work for work. The chukka mocc toes are a clear step above their Sperry competitor, and I don't think I've seen chukka-cut dirty bucks anywhere else. The lasts are very nice; not blobby or wide at all. And mostly under $100.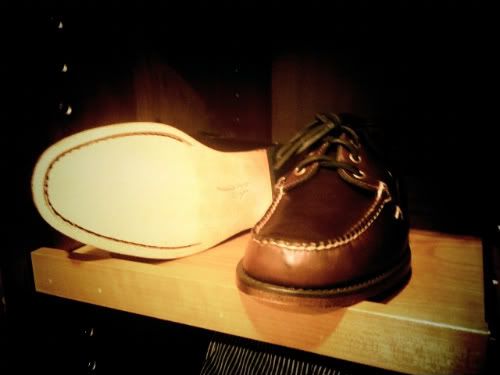 The
Quoddy
connection is a kind of headpsinning ourobros situation. Quoddy used to manufacture L.L. Bean's moccs. Bean outsourced their production abroad years ago. Quoddy kept making moccs in Maine on a small scale, but they got more expensive. Quoddy got noticed by hipsters (including Rogues Gallery, which offers Quoddy-made shoes), and started making boat shoes with weird leathers, like gray suede with red soles--J. Crew and Urban Outfitters recently started carrying their own Quoddy makeups. Presumably, Bean noticed that, and now is making their outsourced boat shoes (the Signature shoes are made in El Salvador) in blue suede among other leathers. Not to mention Quoddy used to make Yuketen moccs (and may still, that's a bit of a mystery). Bottom line is, if you want interesting boat shoes, Quoddy is the standard all others are measured by, and their shoes are still made in the USA for that extra dash of hipsteritage Americana, but the Bean Signature shoes are a much more affordable option, and only the most discerning would notice a difference from eye level. Oh the incestuous world of boat shoes in Maine.
Back to the clothes. Fits are slimmer than standard L.L. Bean, but in standard L.L. Bean, I can sometimes wear a shirt in size small, and I'm a 42R. I picked up a medium shirt in red/blue tattersall on cream, which I like a lot. Shirt details work for me--button down collar, pocket flap, etc., but the buttons are plastic and the hem a little long to wear untucked. Pretty standard for a $59 shirt. The twill blazer fit me better off the rack than J. Crew's 42R, which always ends up with extra fabric in the chest and upper back. Not bad at all.
The Signature line represents good value and acceptable, if uninspiring, heritage-y design. My initial impression is that there was a missed opportunity for Bean to put their purchasing and distribution power behind a smaller, more quality-oriented made-in-USA type collection. I understand that's not their intention. I assume their sights are set on J. Crew and Ralph Lauren Rugby. I still think J. Crew is doing this type of stuff better, but (1) even though Bean's back catalog is far deeper, J. Crew had a head start on the resurrected heritage trend, (2) Bean's customer service is unparallelled, which is attractive. J. Crew should watch its back. Also, the St. Patrick's Day 8k was a solid warmup for runnin season. See you on the
Capital Crescent Trail
.
My manbag quest is on hiatus right now. Thought I had the answer, but I didn't.
Madras cap from L.L. Bean's normal line.