Title quotes Benjamin Franklin; wise man, proud Philadelphian, manbag pioneer? The evidence on that last part is inconclusive. I need a new contrivance for carrying things. Books, gym clothes, lunch, small grocery run, six-pack of Bud tallboys, the occasional laptop or LP. I thought getting a new bag would be easy. My needs are not unique. I need a bag that's a comfortable carry, can fit the aforementioned stuff (not all at once), doesn't look stupid, is wearable on a bike, and doesn't cost more than, well, I don't know. I'm even flexible on the orientation--rucksack, messenger style, shoulder-slung briefcase--I can make a case for any of them. I flipped through Nylon Guys at Border's and they had an entire feature on backpacks, and I would use none of them. I almost said "wear them," there, which would be appropriate for most in the Nylon piece. I need a bag that sits midway between the utility of the fare at REI and the appearance of something RRL would make would be perfect. Warning, depending on your perspective I may come off here as a terrible cheapskate or a heedless spendthrift here. I took a vote and said maybe to the following:
1. Altadena Works Teardrop Pack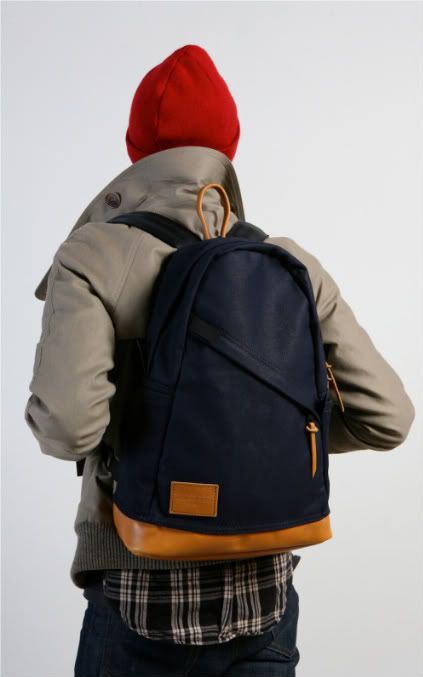 STATS: 18 x 13 x 7
PRICE: $225
PRO: Until recently, I was antibackpack. They ruin jacket shoulders, I thought; they make you look like a little kid, I thought. I've been using a borrowed old Northface pack for nearly a year now and those both hold true. But frankly I don't wear sportcoats all that often and the Altadena Works pack doesn't look middle school, just a little old school. The design is very clean for a functional pack--thoughtful but not too gimmicky. There's room in there for just about anything I'd carry. The raw materials are good quality--Horween leather, for example, and wool felted shoulder straps. Plus it's made in the USA.
CON: The big con, obviously, is that it's 225 goddamn dollars. I also question its rain resistance.
2. Archival Clothing Rucksack
STATS:Unknown, but looks plenty big
PRICE: Unknown, but I'd venture around $200
PRO: Plenty big, vintage inspired without being ridiculous (http://i291.photobucket.com/albums/ll284/shoreman1782/duluthcanoepackfull.png), made in USA, and after reading Archival Clothing for quite a while I have a lot of trust and respect for the people behind it. I trust them to build something well and not be cute about it. Waxed canvas is waterproof enough for me, and the flap over design seems ideal for it.
CON: Although the price isn't yet public, it won't be cheap. (I'm sure the AC folks aren't ripping people off.) Also, all these earthy canvas bags with leather closures and thin, unarticulated shoulder straps are a little, I dunno, square. German backpacker in the wrong sense of the term. Just sayin.
3. Yuketen Triangle Pack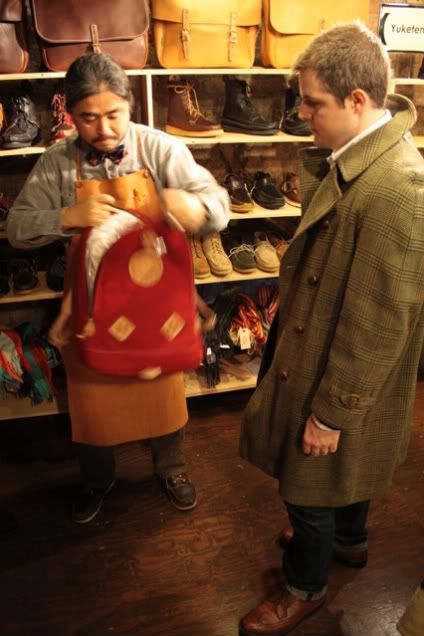 STATS: 18.5 x 12 x 8.25
PRICE: $420
PRO: I really really like them. Saw the wool felt version at Capsule and the safety orange canvas version looks blazingly cool too. There's a lot of 70s mountaineering stuff being resurrected now, and Yuki is looking further back than that. It's just so PRETTY. Solid metal hardware, zippers that will eat your hand, more Horween leather trim. Made in USA. Again, a small company I respect.
CON: Outrageously expensive--not that there isn't some value there, but it's still a lot of dough. Not available from a U.S. retailer (that I can find). Almost completely impractical--not waterproof, one giant pocket, will likely be uncomfortable when heavily packed. Almost too interesting looking, and I would prefer not to draw attention in that way. Yeah, maybe just strike this one for me, although it's a work of art.
4. Porter x Monocle Baby Boston Bag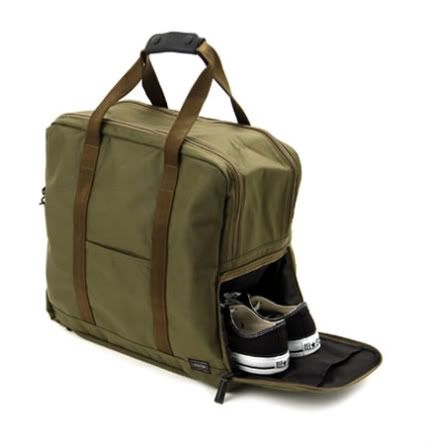 STATS: 16.5 x 7.5 x 15
PRICE: $375
PRO: Porter is a Japanese bag maker of some repute. Their stuff is supposed to be indestructible. Monocle magazine helped design this one for short-term travel, and it has some thoughtful touches that would be handy on a day-to-day basis. I also like the color and the fact that it's not a standard shape.
CON: Dimensions seem oddly small for its type, although it's a different shape than most others here. Although I enjoy reading Monocle and their store sells things that are only in impeccable taste, there's an air of smugness, in-crowdness, and materialistic aspiration associated with it that's hard to pin down and that puts me off. Also, it's nearly $400 for a nylon bag. Wait, I think that pins it down.
5. Filson 257 (large briefcase)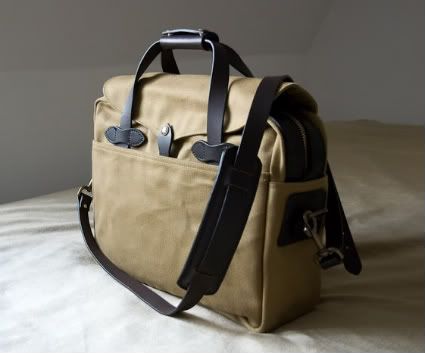 STATS: 16 x 12.5 x 6
PRICE: $250
PRO: The size is ideal. Big enough for a laptop and some accessories, but not too big to carry daily. It looks good but won't draw attention to itself. You can trust it to age gracefully and not embarrass you in a year or so. Still made in USA. I own other Filson products and have been happy with their quality control and Filson's customer service.
CON: If it weren't for the Monocle-branded bags, this would probably be the standard issue for the post-metrosexual Monocle man. Even in DC, which tends to be the last boarder on the trend wagon, I've seen a bunch. And although it's probably not a bad value, it's still more than I want to spend.
6. Reload Bags Frontier Knapsack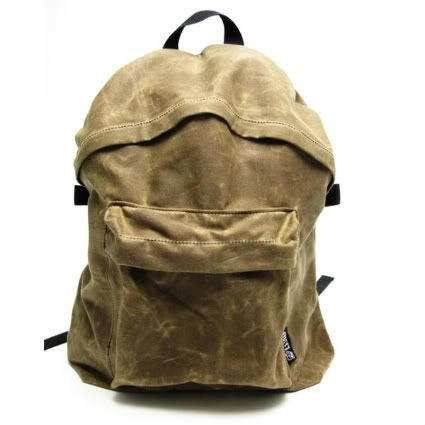 STATS: 15.5 x 14 x 4
PRICE: $45 (sale price)
PRO: Waxed canvas in good, basic earthtone colors. Made in USA (in Philly, no less) by a good, small company that makes functional bags for a demanding clientele. Price is right--wouldn't be bad at the original price but the sale price is really solid.
CONS: Shape is basic and classic to the point of school-bag-y. May actually be too small for some of the things I need to carry, and I can't check before I buy. A $45 bag isn't a good deal if it doesn't work and you have to buy another bag. I had this one in my cart and ready to go but just wasn't certain if the combo worked.
7. Albam Summit Pack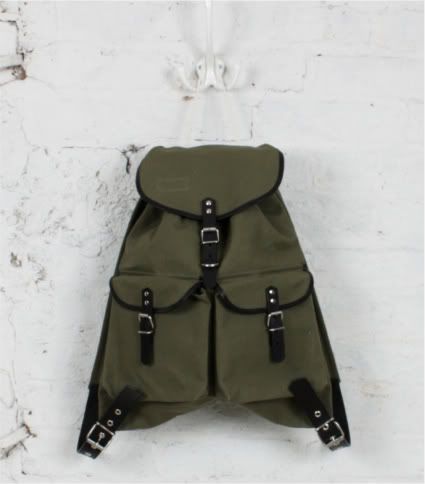 STATS: Unkown
PRICE: $200
PRO: Styling is nice and the price is competitive, if not exactly cheap. I really like what Albam's doing generally--their product is unique in a crowded market, their Web site is clean, their blog is informative. I have stuff from Albam and it's stuff I like. Bag is made in England.
CON: I doubt the water resistance. May not be very practical and I don't know the size for sure. It's still $200.
8. Acontinuouslean/Pendleton/Property of... guy bag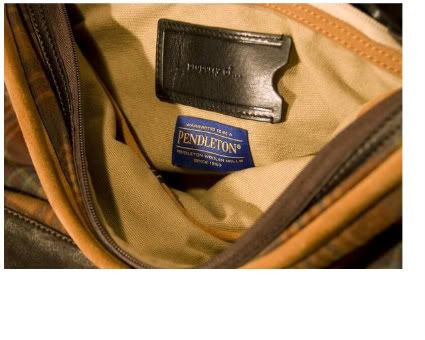 STATS: 20 X 6.25 X 13.4
PRICE: $195 (sale price)
PRO: I like all the entities involved here. The bag seems well-sized. The Property of... bags are not ubiquitous to begin with and even less so in this makeup. It has a handful of practical pockets on the inside so my lunch and book don't mingle.
CON: Wool isn't waterproof. I like a lot of Pendleton wools but the colors here are borderline ugly; they look like seconds. It's a little purse-y.
9. L.L. Bean Downeaster canvas duffle, medium
STATS: 12.5 x 23 x 12.5
PRICE: $64
PRO: Price and local availability help, considering I wouldn't be able to check out any of the other bags here before ponying up. Size is great, I can take this to work every day or on a weekend trip.
CON: Canvas is not waterproof. The duffle shape, even with the shoulder strap, is not especially workable on a bike.
10. South2West8 Canoe Sack, small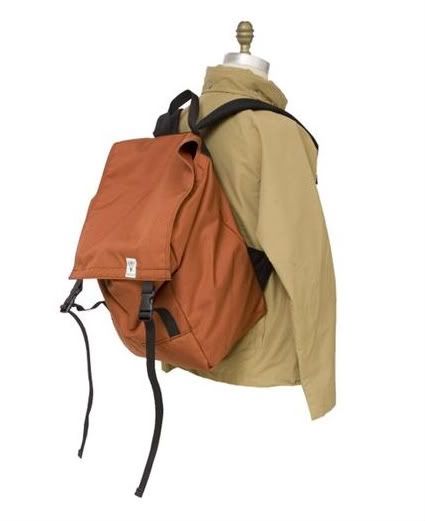 STATS: 16.5 x 12.5 x 9
PRICE: $150+fees
PRO: S2W8 splits the difference between an old canvas canoe bag and a 1970s backpack by making their canoe sack a manageable size and doing it in colorful nylon. It's big and eveything's easily accessible. The design incorporates elements from when comfort and convenience were at least as much of a concern as durability.
CONS: Another piece I'd love to have but that I can't justify. The original price isn't terrible, but when you add tax, shipping, potential proxy fees (it only retails in Japan), etc. it quickly balloons to over $200--again, a lot for a nylon pack.
----------------
Measurements are all approximate--some have been converted rudimentarily by me. Some costs have also been estimated and converted.