GQ has every cover they've had since 1957 (when they were still Apparel Arts) up on their site,
and it's amazing
. I know this is old news, and the images would be so much better in higher res, but I had a little time to browse and gee wow there's some great stuff in there--I only wish I could flip through some of these issues in their entirety. I especially enjoyed the stuff from the 1960s. We're in such a Mad Men-induced haze about how great the 60s were for men's clothing and culture in general that it's good to get a little perspective--even a leading publication dealing with men's clothing at the time wasn't all aboard the trim gray suit ensemble. Some choice shots after the jump.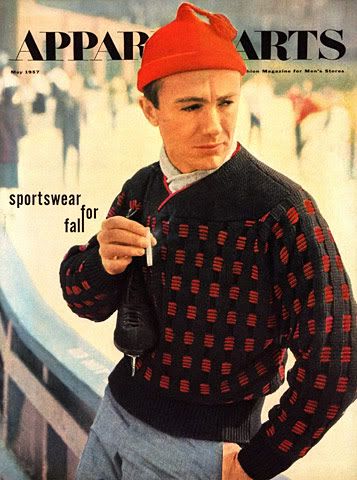 Sportswear in May 1957. The tassle's a little much, but a trim dark sweater and gray trou work today.
So dogs haven't changed so much since spring 1958. Sharp double windowpane on the country suit.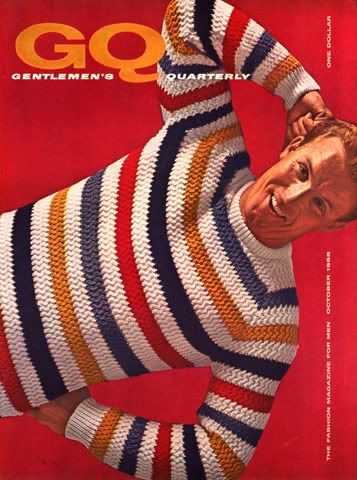 I unironically love this sweater (October 1958). Maybe it's a little Hudson Bay influence.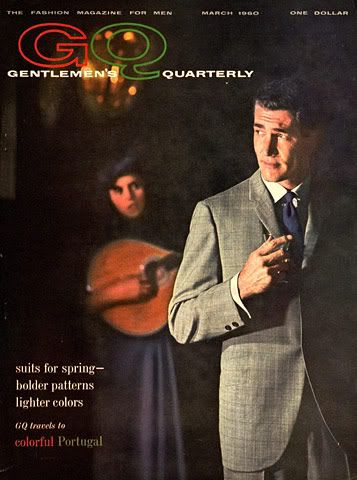 March 1960--the closest the covers come to matching the Mad Men aesthetic. Two button sleeve is old school.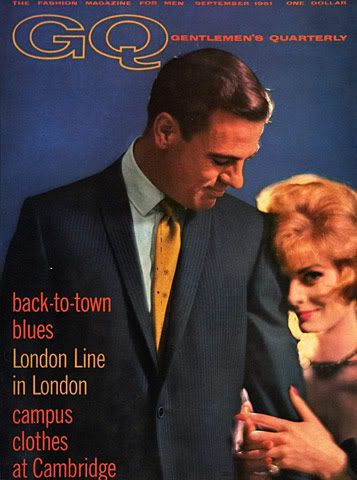 September 1961. Aside from maybe the tie, this is very current. Clean all around.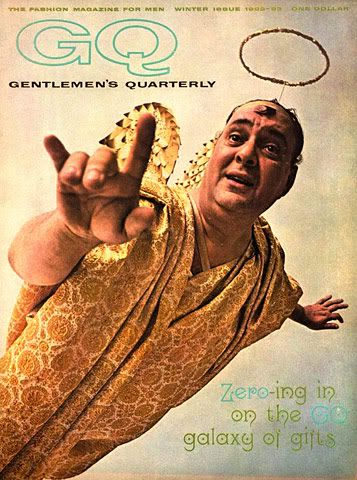 I hate to mention Mad Men again, but if mid-60s GQ is a harbinger of costuming/themes to come, next season is gonna suck. Winter 62-53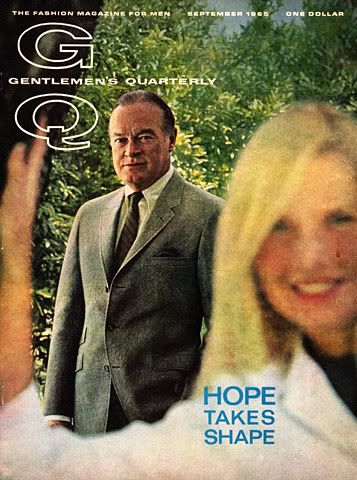 But Bob Hope is still pretty dashing in a gray suit in 65. Buttondown collar, nice. The shape of the lapel (rounded, heavy roll) is not too far off from what Monitaly is doing for next fall. The 60s didn't see a ton of celebrity-driven covers, and many of the celebs were icons past their primes (no offense to Mr. Hope). Other covers featured Cary Grant and Fred Astaire. An exception is...
GOULET, who appears to be midprime in February 1966.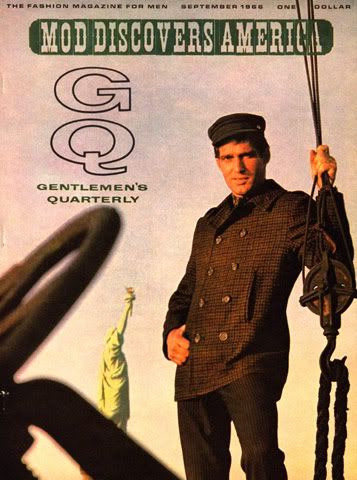 Now, I like mod stuff--not just Paul Weller mod, but real 60s mod--but the covers are mostly downhill from this one in September 1966.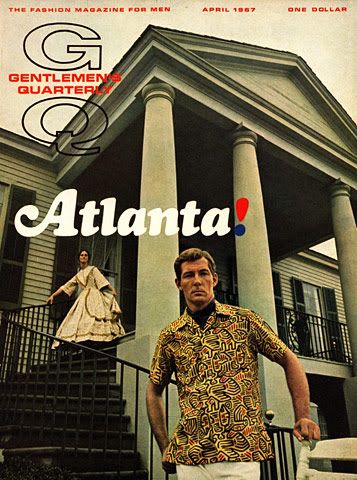 There's a lot of location-driven covers in this era. No one has been this excited about Atlanta since 1967.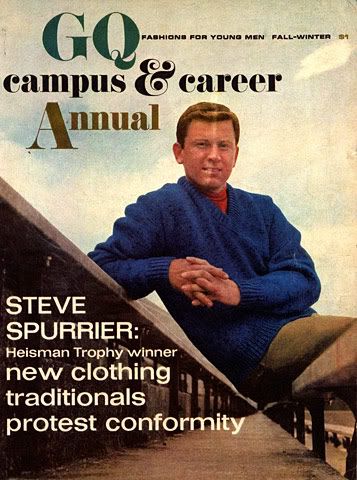 Haha. Hahahahaha. Oh, man. Hahahaha.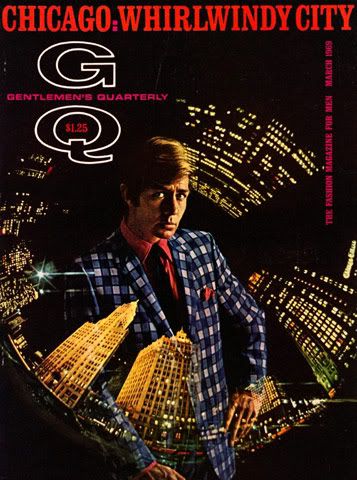 Another theme was trippy camera effects. Also, PLAID.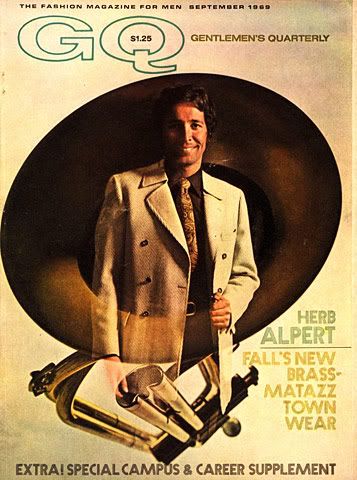 Your icon for 1962: Don Draper. Your icon for 1969: Herb Alpert.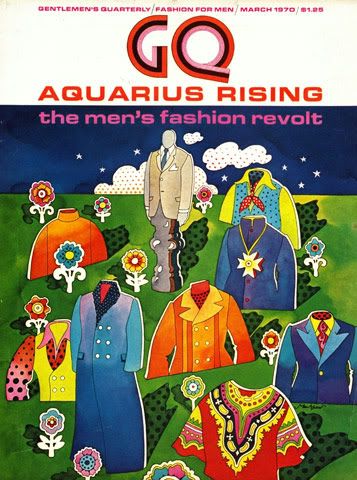 I should end it there, but I can't help but give just a taste of what shows up in the 70s (March 1970).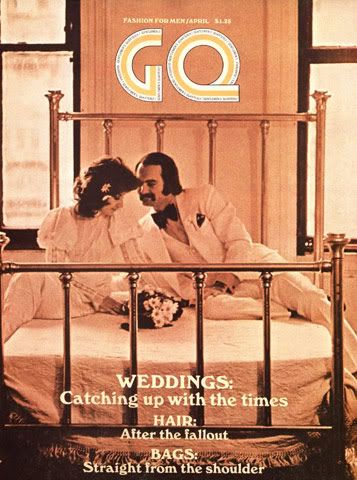 It was ... a weird time (April 1971)
.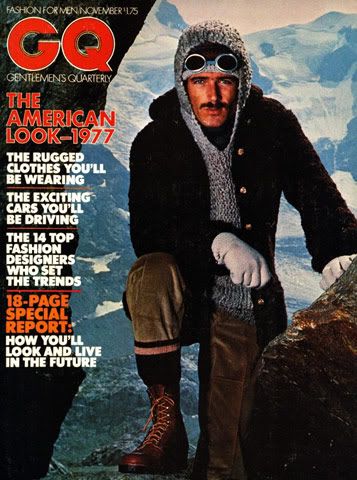 Although I bet this guy had an awesome backpack in November 1976.
And finally: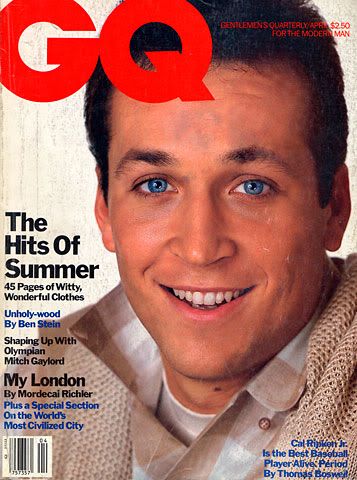 Bahahahaha. Haha. HAHAHAHA. Ha.