Honestly, I'd prefer that a reputable film festival walking distance from home would show more than just documentaries. I don't watch a lot of documentaries for leisure (probably related--I don't read much nonfiction), and those I watch tend to be
music-related
or
consist mostly of standup
. I do like the occasional
treatise on typeface
.
But, you don't look a gift festival in the mouth, and the
American Film Institute's Silverdocs festival
(June 15-22) reminds me that documentary != boring filmstrips on igneous rock or bovine university. This year's slate seems a little thin on star power (no Jarmusch, no Scorsese) and films for me, although
Albert Maysles
will be feted and the fest
may bring Lebron to Silver Spring
, now that the Cavs are out of the NBA playoffs. Of course, there's a nice bundle of docs that hover between "not worth $10" and "not worth fighting for tickets with Montgomery County
bobos
."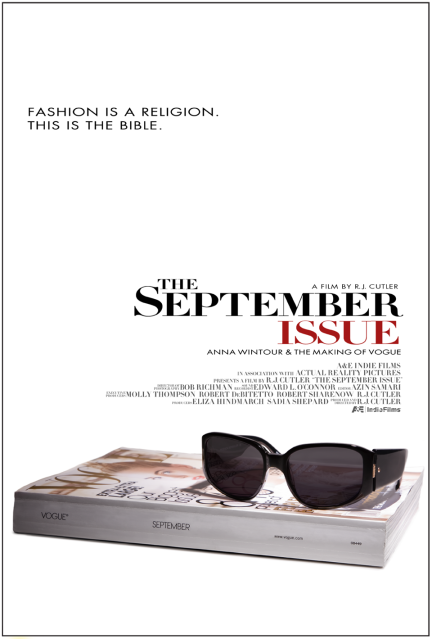 R.J. Cutler's
The September Issue
takes a look at producing the most important, most bloated Vogue of the year. I assume it's a more honest look at Anna Wintour than The Devil Wears Prada, with more access and, unfortunately, less
Anne Hathaway
. 90 minutes, showing Friday June 19 at 7:15. The director and Post fashion editor
Robin Givhan
will discuss the film afterwards.
I can barely force myself to take the trash out on the right day.
No Impact Man
is the story of Colin Beavan, who opts to never have to take the trash out--spending a year with as little effect on the environment as possible. What could be a hippie snoozer may be saved by the fact that the dude asks his wife and young daughter to do the same. I look forward to a lot of
Barry Lyndon
lighting. 92 minutes, showing Thursday, June 18, at 4:45, and Saturday, June 20, at 9.
Some other contenders--
Best Worst Movie
, about (what else?)
Troll 2
and directed by its child star;
Cat Ladies
, which tries to explain the phenomenon (I am not in this film... yet);
Rise Up
, about trying to make it in the Jamaican reggae scene (as opposed to the Kutztown, PA, reggae scene?); and
Soul Power
, made using footage of the 1974 James Brown, etc. music festival in Zaire before the
Rumble in the Jungle
.